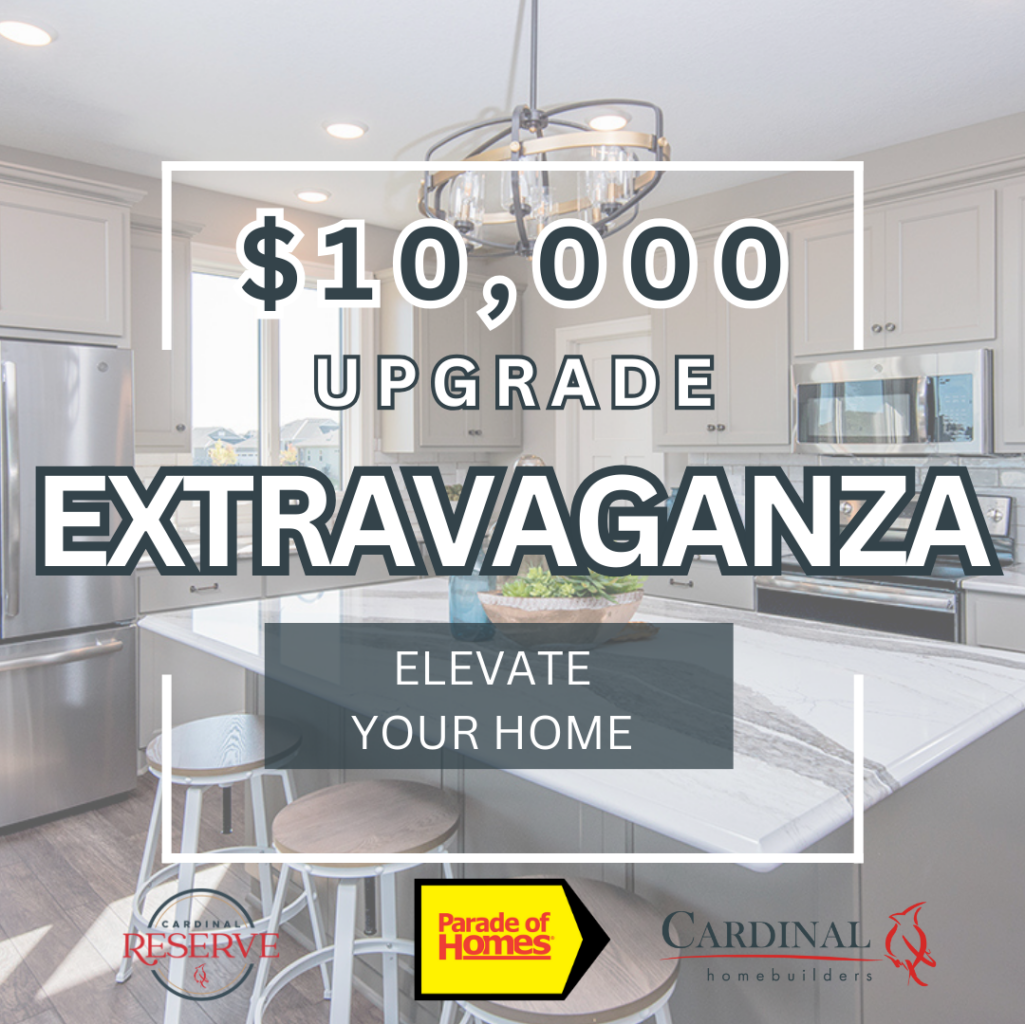 Are you ready to take your living experience to the next level? During the Parade of Homes, we are offering an Upgrade Extravaganza to transform your Cardinal Reserve new construction home into a haven of luxury and comfort, and the best part is, $10,000 towards the upgrades are on us!
Here are some ideas on how to use the $10,000:
**1. Outdoor Oasis:**
Step into your own slice of paradise with an outdoor upgrade. Imagine lounging on a patio set, or hosting gatherings around a built-in outdoor kitchen. Whether it's unwinding after a long day or entertaining friends and family, your outdoor oasis awaits.
**2. Spa Retreat:**
Indulge in relaxation with a spa-inspired bathroom upgrade. Immerse yourself in a shower system that feels like a gentle rain or wrap yourself in the warmth of heated towel racks. Your bathroom will be transformed into a serene escape, giving you a daily retreat to recharge and unwind.
**3. Kitchen Deluxe:**
Calling all culinary enthusiasts! Picture a wine cooler to keep your favorite bottles at the perfect temperature or a charming farmhouse sink that adds both functionality and charm. Your kitchen will become a chef's dream, making meal prep and entertaining a joy.
**4. Storage Solutions:**
Make the most of your space with our custom storage solutions. From walk-in closets with organizational systems that streamline your wardrobe to a well-equipped garage that accommodates all your needs, decluttering your life has never been easier.
**6. Mudroom Marvel:**
Embrace everyday elegance with our meticulously designed mudroom upgrades. Keep clutter at bay with built-in storage benches, cubbies, and hooks that provide a designated space for everything you need as you come and go. Say goodbye to mess and welcome a clutter-free entryway that exudes style.
At Cardinal, we believe in going above and beyond to show our appreciation for choosing our new construction homes. Our Upgrade Extravaganza is our way of giving back to you. With the $10,000 towards upgrades, your new home will not only be a space to live but a space to thrive.
Visit us at our model home during the Parade of Homes. Located at 6209 Janero Ave S, Cottage Grove (please input the address: 9176 Military Rd), the Parade runs September 9th through October 1st and is open Thursdays-Sundays from 12-6pm.  Your dream home is waiting, and it's better than you ever imagined.